Clinics

"One of the best master classes ever given at the Julliard School!"
- Joseph Alessi, Principal Trombone, New York Philharmonic and Professor of Trombone, Julliard School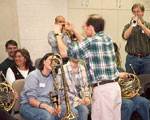 Norman Bolter is renowned for his powerfully inspiring and musically effective master classes,
workshops and other instructional clinics. To experience his awe-inspiring creativity, uplifting humor,
encouraging humanity and unquestionable skill is to understand why he has become a living legend.