To follow the FREQUENCY BAND ON FACEBOOK: click here!

For MP3 SOUND CLIPS from the Frequency Band's "PHOENIX" CD, click here!
For Frequency Band VIDEOS, click here or visit us on Facebook!


What is the Frequency Band?:



The Frequency Band® is a vision, a training and a performance ensemble. It was founded in 1993 by Norman Bolter and Dr. Carol Viera in order to offer a special and unique opportunity for music, other musicians and themselves. This is accomplished through offering a sanctuary for musicians and honoring music as a living thing.

The journey begins with providing musicians an ecology of safety and support for each life to reconnect to the feelings, reasons and sentiments that attracted her or him to music in the first place. And if their relationship with music did not begin with love, but was an 'arranged marriage,' the Frequency Band ecology is there for them to find out if they ever fell in love with music along the way or if they would like to do so now. These opportunities are facilitated in many ways, including through various exercises and tunings--such as tuning to the "A's" of Attitude, Appreciation and Awe.

The Frequency Band's unique methods of targeted psycho-educational tuning and advanced musical training address and bring alive what we call the "Three Overlays" of music. (For more about the "The Three Overlays," see its own special section below.) All Frequency Band concerts, rehearsals, workshops and OPTs include components of this specific musical training and education, allowing FB participants the opportunity to acquire unique and highly effective methods and skills which they can apply not only within the FB, but to other musical and life engagements as well.

In all of its engagements, the Frequency Band's focus is placed, first and foremost on value for the human, because the Frequency Band, first and foremost is not a musical endeavor but a human endeavor.  From that foundation, the musical focus is on the essence of the music--that living spark which brings the music alive, difficult to define but clearly felt, not unlike love or courage or hope. Such "tuning" invariably results in a high standard of performance without undue preoccupation with academic or technical perfection, although technique most certainly is not neglected... rather, it is made purposeful and alive, in service to the music, not governing upon it. It is our belief and a premise of the Frequency Band that the most effective, life-enhancing and memorable musical experiences, for both musicians and audiences, can be engendered through approaching music and music making in this way, i.e., as part of what we care about, as something we have a relationship with, as a living thing.



---
Essence Music/Music as a Living Thing:

What is "essence" music? Many thinkers from various traditions have explored the concept of "essence" and come to specific definitions for what the word means to them. But, for us, this question is one of those enduring contemplations that rather than yielding a final answer, simply keeps evolving, opening up further, offering more--all signs, to us, that indeed "essence music," whatever it is, is about music as a living thing, because living things grow; dying or arrested things do not. And so, thus far, our understanding has led us to think of essence music as music that stirs those who play and those who listen, music that moves someone deep inside, music that naturally causes a meaningful process unique to the life experiencing it, music that fills a need.

It happens when, and because, those playing the music find a way inside, resonating with and staying true to some feature that lives with and originally inspired that piece of music and is made meaningful to the players own lives. So, really, essence music, as we use the term, might be thought of as music which is on the same wave length or "frequency band" as its subject and thereby evokes some essenc-ial feature of that subject.

In composing, by and large, we look to make music that resonates with healing and enhancing things, such as some aspect of nature, a specific human quality, a special life event--although we also have explored satire, war, abstract concepts and other things, though typically with the intention to bring meaning to or aid in the processing of life's challenges. Hence, through varied essence music attempts, we seek to create musical experiences which are supportive of and beneficial to humans and other forms of life. Also, the Frequency Band OPTs are an important part of persuing this intention. More information about the OPTs can be found in their own special section below.

And whether it is through composing or playing or listening, for us essence music is about exploring, through the medium of sound, the passing and receiving of energy (frequencies) and what this causes. This fascinating territory is essenc-ial to all our Frequency Band endeavors.

---
Who Participates?:

While there is no formal membership in the Frequency Band (except for an intermediate and advanced core group), the Frequency Band has many regular participants in its ongoing engagements, both face to face (Boston, Europe and New Zealand) and virtual (via available current technologies). This
community of musicians has evolved naturally according to what we have found to be a continually growing interest and need for a "new" kind of musical engagement. In this, we find that the binding glue amongst those involved is their value and appreciation for the musical option and opportunity which the Frequency Band provides, including being able to join together with others wanting the same thing. Frequency Band participants can be found around the world, including in the United States, Denmark, the Netherlands and New Zealand.

The Frequency Band is open worldwide to anyone of genuine intention--without religious, national, political, gender, sexual orientation or racial exclusion. The FB also is not limited to any set instrumentation or musical genre. There are orchestral, jazz, folk, rock and pop musicians amongst the FBers, and it includes sound engineers, stage crews, page turners, graphic artists, copy writers, and others who help, in any number of ways, to make music happen. Finally, inclusion and tuning of the audience is very much a part of Frequency Band performances.

---
OPTs: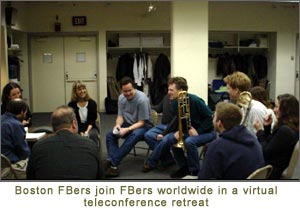 Oftentimes, Frequency Band engagements are called "retreats," to express our wish and intention that our time together be a "retreat" from things we might have to do in the world to survive (but might not be so nourishing to our living relationship with music or ourselves) to what we want to do more of musically--together with like-minded musicians, free from the judgement and criticism and pressures that can be part of the world of "professional" music.

For some some time now, and inspired in large part by a potent urge to respond to the devastation caused in the US Gulf region by Hurricane Katrina, our engagements have included a further dimension. We call these engagements Frequency Band OPTs. In the OPTs, the spirit of "retreat" continues, for we see it to be needed now more than ever, but rather our collective wish has shifts from simply wishing for our own localized sanctuary to wishing for a world sanctuary which includes, but is not limited to, ourselves.

So, what exactly are OPTs? Quite simply, they are OPT-in specialized gatherings, for musicians locally or synchronized worldwide, offering regular shared opportunities to those wishing to engage in musical expression focused on promoting help and healing where needed throughout the world. Music such as "Unity Born of Humanity,""Listen to the Well Being," "Katrina Contemplation and Wish," and other works are played with focused thought and heartfelt wish for the health and well being of ourselves, those we know and those we may never meet. The purpose is simple and genuine: to play from the heart in the hopes that others might "hear" and benefit.

Since there is a compelling body of clinical evidence in support of "distance healing," we believe it is important not to dismiss its possibility. Also, by tuning ourselves to thoughts of well being, peace, healing and so on, we hope, at the very least, to help better ourselves and our own circumstances in the spirit of Gandhi's enduring advisory, "You must be the change you wish to see in the world."

FB OPTs are held regularly in Boston and abroad. Also, for those interested and wishing to further this sentiment, the print music for "Unity Born of Humanity," for trombone choir, can be downloaded free in the Print Music section of our Catalogue.

---
The Three Overlays:

In all of our musical engagements, we attempt to bring alive an appreciation and living understanding of what we call the "Three Overlays" of music, namely, basic "Robotics" (the mechanics), "Choice and Skill" (what you do with what you've got), and "Integration and Art" (how you integrate the previous two overlays and bring the music alive in an enhanced and connected way). Hence, FB engagements, at all levels, include work into the Three Overlays. Further information about various aspects of the Overlays can be found in our various writings and Norman's blog.

---
Newsletter:

Between 2001 and 2003, the Frequency Band had its own newsletter, DOHnote. While we no longer publish it, Frequency Band updates still can be found on the News page of this website and on the Frequency Band Facebook page. If you wish to be added to our e-mailing list, HOLD TIGHT, we hope to get that re-set up again soon. Please note: We will never sell or rent our mailing list to anyone.



---
FB-forum E-Mail Discussion Group:
What is the FB-forum? It is a very special e-mail discussion group designed as yet another service and practical means of support to Frequency Band (FB) inspired engagements. This forum, like the FB itself, is intended to be a "sanctuary" and "safe haven" in which each person can refresh (and perhaps refind) her or his original love of music, supported by like-minded companions. It also is a means by which FBers worldwide can communicate with each other and find out about FB activities. As such, it is not open to the general public but is a closed discussion group, open by invitation to persons who actually are or were involved in (and still want to be connected with) FB activities.
An international discussion group, the FB-forum seeks to foster respect for each person's uniqueness and camaraderie born of a shared purpose. It began as an experiment in June 2002 with a small group of willing FBers. It since has grown to a membership of diverse individuals spanning the globe. While Facebook has take over a large part of this communication, there still are times we communicate in this way and it's open to others to post too.

---
*Click on image to enlarge
 
 


FB in Symphony Hall:
Zenas and Joey
Carol:
Mental tuning
FB rehearsal retreat:
Roger, Phil and Norman
 
 
 
Bell tones! Sean, Kenji
Norman, Dan and Jeff
Norman:
Connecting

Pizza break:
Joe, Nozomi and Roger

More photos might be posted here but why wait?

Visit us on FACEBOOK for more photos and stories!

---
Recordings, Audio and Video: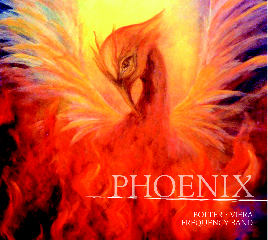 "Phoenix" Available on CD and Digital Download!

Visit our Catalogue and News pages for more information about our latest CD and previous recordings. Our Catalogue features MP3 sound clips for "Phoenix" and many tracks from previously released recordings. Oh! And why get the physical CD? Because there are liner notes of special tuning value... and more.

Lots and lots of recordings (audio and some video) have been made of the Frequency Band--in concerts, workshops and recording retreats. We hope you enjoy our current offerings and there is lots more to come!

Frequency Band Videos!

We've posted several Frequency Band videos to the Audio/Video page of this website and more (including informal clips from retreats) to the Frequency Band page on Facebook!  We hope you enjoy them!  More to come!

---
By Postal Mail:

Frequency Band
c/o Air-ev Productions
675 VFW Parkway
#352
Chestnut Hill, MA 02467-3656
USA

By E-mail:



To join our mailing list:

Please click here.